The Maharishi Smarak (memorial of knowledge)
The Maharishi Smarak:
The Maharishi Smarak will stand as a timeless memorial to the eternal wisdom of life brought to the world by His Holiness Maharishi Mahesh Yogi.
Inauguration has been held on the February 15, 2013.
Location:
The Maharishi Smarak is steadily rising on the banks of holy Ganga. The Maharishi Smarak is located in the ancient city of "Prayag" (Allahabad) at the highly auspicious and sacred Triveni Sangam, the confluence of the three most holy rivers in the world—Ganga, Yamuna, and Saraswati.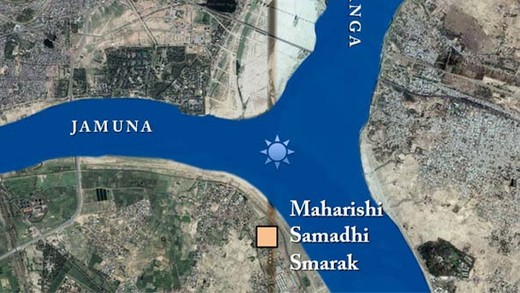 Construction:
A most renowned and distinguished Sthapati architect has made a beautiful design of a grand square Mahamandap hall, to be placed exactly above and around the position of the original Samadhi altar.
The Maharishi Smarak architectureis the best and most advanced Samadhi Mandir construction, fully carved insideand outside, without any iron, completely built with interlocking stones and beams.
The Mandaps of Knowledge:
A giant Vedic Gate will greet pilgrims and visitors. On the right and left of the road will be 8 Mandaps (halls of knowledge) displaying and illustrating Maharishi's supreme knowledge.
Marble Panels of Knowledge:
The panels will provide a glimpse of the wide range of knowledge capable of raising life everywhere to the perfection of Heaven on Earth.
The knowledge displayed on the eight walls of the Hall of Silence will give a glimpse of the knowledge and application of Vedic Wisdom, from Maharishi's favorite Vedic quotes, to his discovery of the Apaurusheya Bhashya, to his gifts of Transcendental Meditation and creating coherence in world consciousness through the group practice of the TM and TM Sidhi Program.
The knowledge: