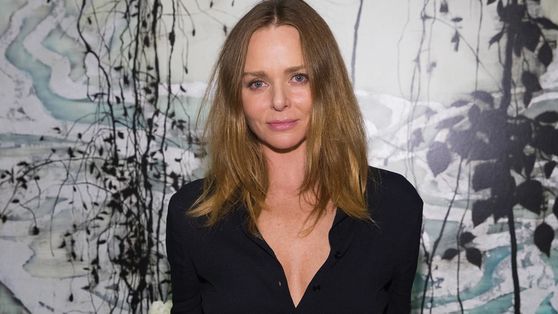 Stella McCartney and meditation
'When my mum died, Dad, my brother and I went to see the Maharishi'
Stella McCartney turned to meditation in the wake of her mother's death.
Stella McCartney was in her late twenties when she learnt Transcendental Meditation — young enough to wince at the cost of the lessons but old enough to know that she needed them. "I paid, and it was like, oooff," the designer says, screwing up her face for emphasis. "I didn't want to part with money for it. But, you know, it's probably the best investment I ever made."
Back then McCartney was only recently installed as the creative director of the French fashion house Chloé, where her youth and her very famous father had led her predecessor in the role, Karl Lagerfeld, to sneer: "I think they should have taken a big name. They did, but in music, not fashion." She had also just lost her mother, Linda, to cancer.
"I had quite a reaction that I didn't feel in control of. I possibly suppressed my emotions and I started having panic attacks, physical reactions to that loss," she says. Transcendental meditation, or TM as practitioners call it, made an almost instantaneous difference to her ability to cope. "It really did help me at a time when I really needed some help."
Fast-forward to today and the woman sharing a small settee with me in a Los Angeles hotel is a huge fashion superstar in her own right and far more at peace with herself than she was two decades ago.
McCartney triumphantly squashed Lagerfeld's jibe by quintupling sales at Chloé in four years. Then she left and built a globe-straddling fashion empire under her name that stretches from red-carpet gowns to sportswear and baby clothes. She became an ethical fashion pioneer who refuses to use fur or leather and who champions sustainable design in an industry that preys on customers' materialism. And despite running a large company with more than 600 staff, she has also been a hands-on mother to four pre-teenage children.
Her life runs to a fearsome schedule, so TM has become a vital daily refuge. It is "probably one of the only things I still do for myself," she says. "It keeps me sane." It also makes her calmer and "probably a nicer person to be around".
McCartney, 46, wants everyone to have the chance to reap the same benefits, whether they have a raw emotional need for TM, like she did, or not. That's why she is sitting in a corner of the fabled Chateau Marmont hotel on Sunset Boulevard giving her first interview about meditation.
She is warm, friendly and irreverent, but also slightly on edge either because she is only a few hours from launching her newest fashion collection at a star-studded gala round the corner or because she isn't used to talking about this part of her life in public. "It's not my comfort zone," she says.
↑
Ben Hoyle
« Stella McCartney on meditation: 'When my mum died, Dad, my brother and I went to see the Maharishi' »
,
The Times
,
January 29 2018
, <
 thetimes.co.uk
>, Other link : <
 same text
>