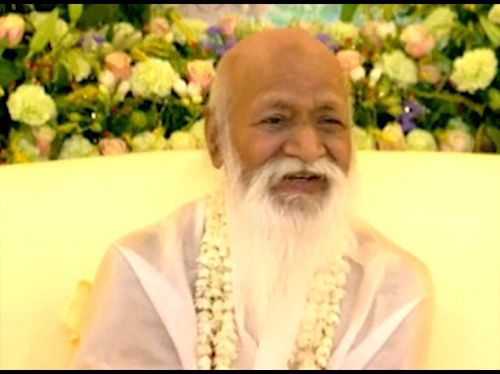 Basic Message of Maharishi Mahesh Yogi and its relation to Peace
Basic Essential Principle of Transcendental Meditation and Knowledge of Maharishi Mahesh Yogi
Dr. John Hagelin: There are questions Maharishi. The first is more basic. The first question Maharishi is for those of us who are new to your work. Would you please summarize your basic message and how it relates to peace?
Maharishi Mahesh Yogi: The message is that the nature of life is bliss, and that is the self of everyone. And therefore, it should not be any obstacle for one's own self to be enjoyed by one. That is the basic message.
For that Transcendental Meditation and following all the does and don'ts that generally are very widely publicized throughout the ages in the religious textbooks, in the scientific textbooks, even in the medical textbooks. Eat this and don't eat this, this is poison, this is nectar, all the good things.
But in order to have them in the most natural manner, one has to contact the seat of all good in one's own self.
So the message is to practically experience one's self, and have the knowledge about the self from the scientific textbooks, from the Vedic literature, from the religious books (what one should do, what one should not do).
But the main thing is the experience of the self. Experience of self consciousness.
And publicly the message is for consciousness based education, consciousness based health care system, consciousness based everything, consciousness based administration. Consciousness, which is one's self.
So not much has to be done, only a matter of recognizing that the man was created in the image of God and the light of God is within everyone and also is outside everyone.
The whole galactic universe, how many millions of suns and all that, there are all functioning by themselves, this is natural law, the will of God.
That is our essential message.
The essential message will be practically utilized by the Peace Government.
And now we say Peace Government of Dr Hagelin, the great scientist of our scientific age.
That is our message.
Maharishi's Weekly Global Press Conference - Wednesday 02 July 2003
Maharishi's Vedic technologies: Transcendental Meditation and it's advanced program Yogic Flying are being implemented globally.
Just the square root of 1 percent of the population practicing yogic flying together in a group is enough to raise the levels of harmony and coherence in the collective consciousness for the whole population.
Enjoy the news of enlightenment dawning for every individual, invincibility for every nation, and peace for our dear world.