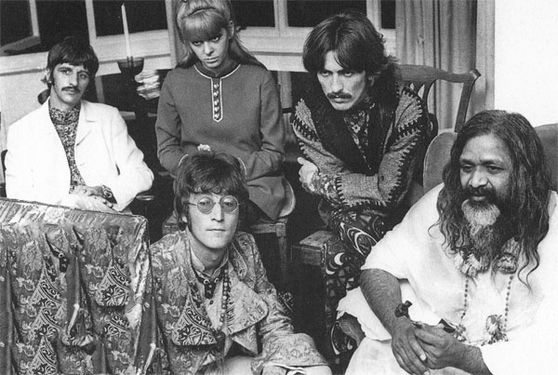 George Harrison about fame, religion and spirituality (The Beatles Anthology p263)
GEORGE HARRISON: I was only twenty-three when we made Sgt Pepper, and I'd already been through India and LSD and was on the road to transcendentalism. After having such an intense period of growing up and so much success in The Beatles and realising that this wasn't the answer to everything, the question came: 'What is it all about?' And then, purely because of the force-fed LSD experience, I had the realisation of God.

Nobody I know in the Christian religions seems to have a deep enough understanding of the science of God to be able to translate it into human terms. Church leaders are purveying a kind of nonsense because they don't really understand it themselves. So they blind you with ignorance, like a government does, as if the power of the Church has become reason enough for you not to question anything it says. It's like, 'You don't know anything about Christ and God because we're the ones who own the franchise.'

I had read enough from the Vivekananda and Yogananda to comprehend how to see God: by using the Yogic system of transcending through the relative states of consciousness (waking, sleeping, dreaming) to get to the most subtle level of pure consciousness. It is in that level that the individual experiences pure awareness, pure consciousness, the source of all being. We said it in 'Tomorrow Never Knows'.

The void is the transcendent, beyond waking, sleeping, dreaming. Everything in creation is the effect of that pure state of being, the transcendent or the God. God is the cause. And the effect is all three worlds: the causal, the astral and the physical.

I believe absolutely in the power of prayer, but it's like love: people say 'I love you', but it's a question of 'how deep is your love?' Maharishi used to say that if you have a bow and an arrow, and you can only pull back the bow a little, the arrow won't go far. But if you can draw the bow right back, you can get the maximum range from the arrow. With prayer, some people are so powerful at doing it that their prayers really work, whereas others might have the intention but not the ability. A strong bloke can lift a heavy weight dead easy. Another guy won't have the strength. Both have the same intention, but only one has manifested the ability to do it. For prayer to really work, you have to do it in the transcendent, as the more manifest the material world is (or the conscious level is), the less effect it has. So the power of prayer is subject to one's own spiritual development. That's why the transcendent level of consciousness is so important, and also why the mantra is so important in reaching that level. The mantra is like a prescription. If you have the right word on a prescription, you get the right medicine.

We go through life being pulled by our senses and our ego, seeking new experiences,- because without experience we can't get knowledge, and without knowledge we can't gain liberation. But along the way we become entwined with ignorance and darkness because of our ego and our association with material energy. So, although we are made of God, we can't reflect God because of all the pollution that's gathered along the way,- and it's such an epic battle to get all of that out of your system. A bee goes to a flower to collect pollen, and then tries to find one that's got more. It's the basic nature of the bee to seek more nectar, just as it's the soul's nature to always seek a better experience. When you've had all these experiences - met all the famous people, made some money, toured the world and got all the acclaim - you still think: 'Is that it?' Some people might be satisfied with that, but I wasn't and I'm still not.

Being in The Beatles did help speed up the process of God-realisation, but it also hindered it as there were more impressions and more entanglements to get out of. Every experience and thought has been recorded on your file within. Meditation is only a means to an end. You do it to release all the clutter out of your system, so that when it's gone you become that which you are anyway. That's the joke: we already are whatever it is we would like to be. All we have to do is undo it.

All we wanted to do was be in a rock band but, as Shakespeare said, all the world's a stage and the people are only players. We were just playing a part. Being The Beatles was like a suit that we wore for that period of time, but that isn't us really. None of us are. Our true nature is looking to re-establish that which is within : All knowing.

JOHN LENNON: ON ANY TRIPS - WHETHER THEY'RE CHEMICAL OR ANYTHING -THINGS THAT YOU DISCOVER ARE SELF-AWARENESS,- ALL THE THINGS THAT YOU'VE ALREADY KNOWN. NOBODY'S TELLING YOU ANYTHING NEW. A SCIENTIST DOESN'T DISCOVER ANYTHING NEW, HE JUST TELLS YOU WHAT'S ALREADY THERE. NOBODY CAN TELL YOU NOTHING. EVEN SOMEBODY LIKE A DYLAN OR A SARTRE OR SOMEBODY LIKE THAT. THEY TELL YOU SOMETHING THAT IS LIKE A REVELATION - BUT IT ALWAYS IS SOMETHING THAT YOU KNOW INSIDE THAT THEY'VE JUST AFFIRMED FOR YOU.