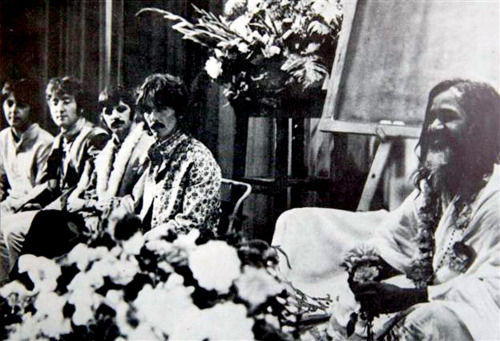 The Beatles first meeting with Maharishi Mahesh Yogi
Hilton Hôtel, London on the 24th of August 1967

(The Beatles Anthology p. 260)
MAHARISHI MAHESH YOGI:
Love is the sweet expression of life. It is the supreme content of life. Love is the force of life, powerful and sublime. The flower of life blooms in love and radiates love all around

GEORGE HARRISON : I had seen David Wynne again, and had been talking to him about yogis. He said he had made a sketch of one who was quite remarkable, because he had a lifeline on his hands that didn't end. He showed me a photograph of this fella's hand and said, 'He's going to be in London next week doing a lecture.' So I thought: 'Well, that's good. I'd like to see him.'

On August 24th, all of us except Ringo attended the lecture given by Maharishi at the Hilton Hotel. I got the tickets. I was actually after a mantra. I had got to the point where thought I would like to meditate; I'd read about it and I knew I needed a mantra - a password to get through into the other world. And, as we always seemed to do everything together, John and Paul came with me.

Hilton Hotel, London on the 24th of August 1967, from left to right: Paul McCartney, George Harrison, John Lennon and Maharishi

PAUL MCCARTNEY: It was George's idea to go. During Sgt Pepper, George was the most interested in Indian culture. We were all interested in it - but for George it was a direction. But it was nice to hear Ravi Shankar's music, it was interesting and very beautiful - and it was deep, technically deep.

I remember Peregrine Worsthorne being there, and I read his article the next day to see what he thought. He was a little bit sceptical. But we were looking for something; we'd been into drugs, and the next step was to try to find a meaning for it all.

We'd seen Maharishi up North when we were kids. He was on the telly every few years on Granada's People and Places programme, the local current-affairs show. Wed all say, 'Hey, did you see that crazy guy last night?' So we knew all I about him: he was the giggly little guy going round the globe seven times to heal the world (and this was his third spin).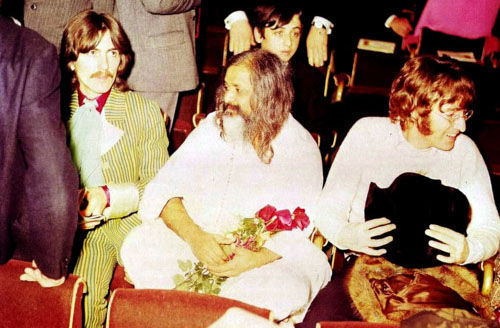 GEORGE HARRISON: I thought he made a lot of sense; I think we all did. He said that with a simple system of meditation - twenty minutes in the morning, twenty minutes in the evening - you could improve your quality of life and find some sort of meaning in doing so.

The youth of today are really looking for some answers — for proper answers the established church can't give them, their parents can't give them, material things can't give them

JOHN LENNON: We thought, 'What a nice man,' and we were looking for that. I mean, everyone's looking for it, but we were all looking for it that day. We met him and saw a good thing and went along with it. Nice trip, thank you very much.

The youth of today are really looking for some answers — for proper answers the established church can't give them, their parents can't give them, material things can't give them.

Отель "Хилтон" в Лондоне 24 августа 1967г., слева направо: Махариши и Джон Леннон

RINGO STARR: At that time Maureen was in hospital having Jason, and I was visiting. I came home and put on the answerphone, and there was a message from John: 'Oh, man, we've seen this guy, and we're all going to Wales. You've got to come.' The next message was from George, saying, 'Wow, man - we've seen him. Maharishi's great! We're all going to Wales on Saturday, and you've got to come.'

JOHN LENNON: Cyn and I were thinking of going to Libya, until this came up. Libya or Bangor? Well, there was no choice, was there?

GEORGE HARRISON: Maharishi happened to be having a seminar in Bangor and had said, 'Come tomorrow and I'll show you how to meditate.' So, the next day we jumped on a train and went.

Mick Jagger was also there. He was always lurking around in the background, trying to find out what was happening. Mick never wanted to miss out on what the Fabs were doing.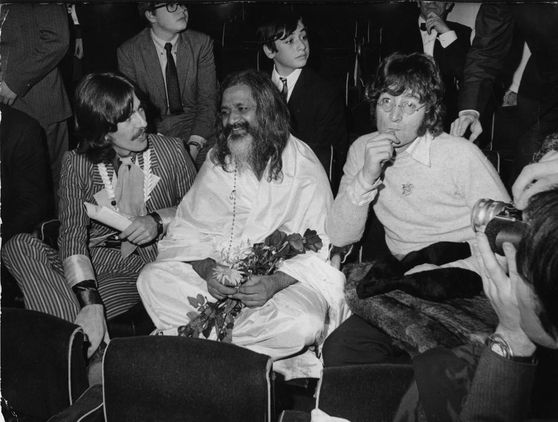 ↑
The Beatles
« The Beatles Anthology »
,
5 Oct 2000
.
370 pages
,
p. 260
, <
The-Beatles-Anthology (look inside)
>
Publisher: Chronicle Books; illustrated edition edition (5 Oct 2000)
Language: English
ISBN-10: 0811826848
ISBN-13: 978-0811826846