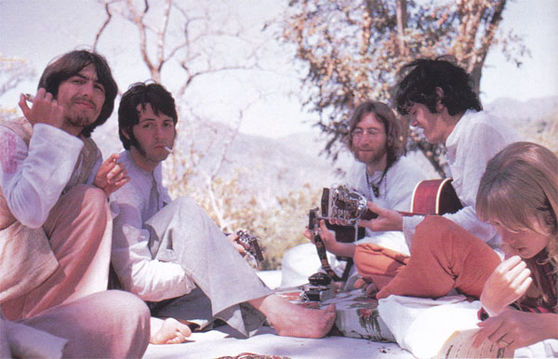 George's birthday and average day (The Beatles Anthology p282)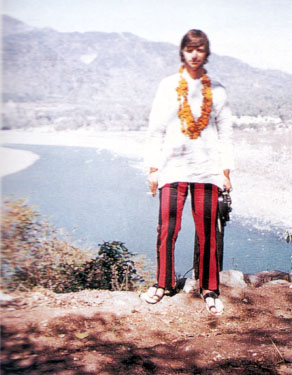 RINGO: We had a big party for George's birthday. It was crowded with people and we all got dressed up and had red and yellow paint on our foreheads.
GEORGE: I had my twenty-fifth birthday in Rishikesh (a lot of people had birthdays while we were there), and they had lots of flowers and garlands and things like that. Maharishi made me play my sitar.
PAUL: An average day there was very much like a summer camp. You would get up in the morning and go down to a communal breakfast. Food was vegetarian (which is good for me now), and I think we probably had cornflakes for breakfast.
After breakfast you would go back to your chalet, meditate for a little while, have a bit of lunch and then there might be a talk or a little musical event. Basically it was just eating, sleeping, and meditating -with the occasional little lecture from Maharishi thrown in.
There were probably about a hundred of us. There would be a lot of flowers on the stage and then Maharishi would come in. It was almost magical. He would say: 'This is only a system of meditation. I'm not asking you to believe in any great God or any great myth. It's merely a system to help you to be calmer in your own life.'
I still think it's good for that exact reason. I don't buy any of those other stories about flying and levitation, although it interests me now because you can actually take courses where you learn these 'siddhis', as they call them, and you fly - you bounce off the ground a bit. I well remember a little chat had with Maharishi when we asked him if levitation was possible. He said, 'Well, I can't do it, but I know a fellow in the next village who can.' And we said, 'Can we get him here? We'd love to see it.' That would have been something to write home about, but we never did get to meet him.
There were question and answer sessions in the evenings. In one of these sessions a guy from America stood up and said: Maharishi, I've been having some trouble, but I've been listening to your advice. I was meditating the other day and a big snake was coming towards me. I'm from New York and I'm really scared of snakes, but I remembered what you told me and I looked at it - in my mind - I looked it straight in the eye and it turned into a bit of wiggly string.' I felt that was really symbolic: face your dangers and then you will see that they're not what you thought they were.
I learnt how to meditate. I don't meditate as much now, but I say to my kids that it's not a bad thing to learn, because if you're stuck somewhere or if you're a bit disturbed, it is a great thing to do.
Maharishi was very up with modern technology because he thought it would help him get round the world and get his message over quicker. Once he had to get into New Delhi, and a helicopter came to the camp and landed on the beach down by the river. We all traipsed down in our kaftans and then it was: 'One of you can go up for a quick ride with Maharishi. Who's it going to be?' And, of course, it was John. I asked him later, 'Why were you so keen to get up with Maharishi? And, of course, it was John. I asked him later, 'Why were you so keen to get up with Maharishi?' 'To tell you the truth,' he said, 'I thought he might slip me the Answer.' That was very John!
JOHN: Regardless of what I was supposed to be doing, I did write some of my best songs while I was there. It was a nice scene. Nice and secure and everyone was always smiling. The experience was worth it if only for the songs that came out, but it could have been the desert or Ben Nevis.
The funny thing about the camp was that although it was very beautiful and I was meditating about eight hours a day, I was writing the most miserable songs on earth. In 'Yer Blues', when I wrote, 'I'm so lonely I want to die,' I'm not kidding. That's how I felt.71 Up there trying to reach God and feeling suicidal.80
When you're born, you're in the pram and you smile when you feel like smiling. But the first game that you learn is to smile before you get touched. Most mothers actually torture the kid in the pram - make it smile when it doesn't want to: smile and you get fed. That isn't joy. You cannot be joyful unless you feel joyful, otherwise it's phoney. Mummy makes you smile or say 'Hare Krishna' before you feel good; then you've gone through a process, a falsification of your feelings. If you feel good you feel good, if you feel bad you feel bad. There's no way out. You can take drugs or get drunk, do whatever, but you're just suppressing the feelings. I haven't met anybody full of joy; neither the Maharishi nor any Swami or Hare Krishna singer. There is no constant. There's this dream of constant joy - it's bullshit as far as I'm concerned. There's no status, there's no absolute.
Pain is something like food in a way, or life; pain and joy. They go into your body and unless you feel it or express it, it remains there like constipation. You can't get away from the pain. There's no escape from it, it's there, in your body somewhere. It'll come out in your nerves or how many cigarettes you smoke or what you do, it'll make you go bald, or whatever. It expresses itself in some form. There's no getting rid of it.
I think we all go through heaven and hell every day; just accept that. To feel is to live. Life is made up of feeling all sorts of things. Every day's the same: there's some heaven and some hell. There's no complete joyful day. There's better days, worse days, and I think every day contains both. It's like the Yin and Yang or whatever you want to call it. It's both.70

↑
Paul Saltzman
« The Book »
, <
thebeatlesinindia.com/
>
The Book The handcrafted, Limited Edition box set The Beatles in India is a must-have for every Beatles collector. Includes an insider's view of that magical time in the ashram. Learn More The Photos 35 unique pictures uncover the most creative period in the life of the world's biggest band. See the Beatles ...