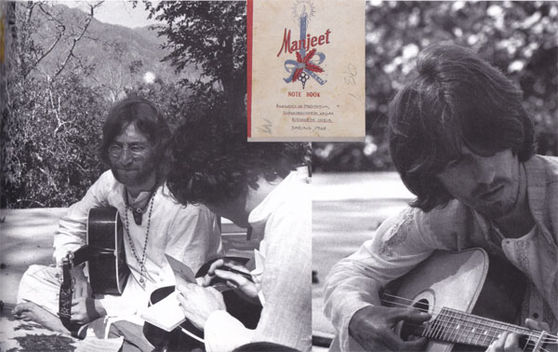 Sexy Sadie and the nasty rumour - George and John and Yoko (The Beatles Anthology p285)
GEORGE: Ringo only went for a couple of weeks - maybe just to put his toe in the water and see what it was like. Paul just came and went. I don't think he got much out of the trip because there's a bit of footage from Let It Be where he's grinning, and saying to John, 'Oh, and it was like being at school, you know: "Oh tell me, oh master".' Retrospectively, twenty years later, he may think back and the penny might have dropped as to what it was about, but I don't think it did at the time.

The idea of the course was that it lasted however many weeks in Rishikesh, and then at the end of that period they shifted the camp up to Kashmir. This was something they did every year. But I'd planned to go just for the Rishikesh trip and then go down to the South of India to do some filming with Ravi Shankar. He was making a movie called Raga.

I kept telling Maharishi, 'No, I'm not going to Kashmir - I went there last year.' And he was saying, No, no, you coming to Kashmir.' I told him I was going south, and that's when John and I left. It was only really John and I who were there from the beginning up until the end of the segment at Rishikesh, and I think John wanted to get back because - you can see it historically now - he had just started his relationship with Yoko before we went out to India.

I think John wanted to get back because - you can see it historically now - he had just started his relationship with Yoko before we went out to India

JOHN: Yoko and me, we met around then. I was going to take her. I lost my nerve because I was going to take my ex-wife and Yoko, and I didn't know how to work it. So I didn't quite do it.70

PAUL: I was quite happy. I was wondering how the others were going to get out of it, though, and then they arrived back with a story that Maharishi had made a pass at an attractive blonde American girl with short hair (not Mia Farrow).

JOHN: There was a big hullabaloo about him trying to get off with Mia Farrow and a few other women, things like that. We'd stayed up all night discussing was it true or not true. And when George started thinking it might be true, I thought it must be true because if George is doubting him there must be something in it. So we went to see Maharishi. The whole gang of us the next day charged down to his hut; his very rich-looking bungalow in the mountains. As usual, when the dirty work came, I actually had to be leader. Whatever the scene was, when it came to the nitty-gritty, I had to do the speaking.

I said, 'We're leaving.' - 'Why?' - 'Well, if you're so cosmic, you'll know why.' Because all his right-hand men were always intimating that he did miracles. And I was saying, You know why.' He said, I don't know why, you must tell me.' And I just kept saying, 'You ought to know.' And he gave me a look like 'I'll kill you, you bastard'. He gave me such a look. And I knew then when he looked at me, because I'd called his bluff. I was a bit rough to him. I always expect too much - I'm always expecting my mother and I don't get her, that's what it is.70

Someone started the nasty rumour about Maharishi, a rumour that swept the media for years

GEORGE: Someone started the nasty rumour about Maharishi, a rumour that swept the media for years. There were many stories about how Maharishi was not on the level or whatever, but that was just jealousy about Maharishi. We'd need analysts to get into it. I don't know what goes through these people's minds, but this whole piece of bullshit was invented. It's probably even in the history books that Maharishi 'tried to attack Mia Farrow' - but it's bullshit, total bullshit. Just go and ask Mia Farrow.

There were a lot of flakes there; the whole place was full of flaky people. Some of them were us.

The story stirred up a situation. John had wanted to leave anyway, so that forced him into the position of thinking: OK, now we've got a good reason to get out of here.' We went to Maharishi, and 1 said, 'Look, I told you I was going. I'm going to the South of India.' He couldn't really accept that we were leaving, and he said, 'What's wrong?' That's when John said something like: 'Well, you're supposed to be the mystic, you should know.'
We took some cars that had been driven up there. Loads of film crews kept coming because it was the world-famous 'Beatles in the Himalayas' sketch, and it was one of these film crews' cars we took to get back to Delhi.
We drove for hours. John had a song he had started to write which he was singing: 'Maharishi, what have you done?' and I said, 'You can't say that, it's ridiculous.' I came up with the title of 'Sexy Sadie' and John changed 'Maharishi' to 'Sexy Sadie'. John flew back to Yoko in England and I went to Madras and the South of India and spent another few weeks there.
The story was put around about our leaving and, of course, the newspapers jumped on that. As it says in The Rutles, 'The press got hold of the wrong end of the stick and started beating about the bush with it.' Now, historically, there's the story that something went on that shouldn't have done - but nothing did.
JOHN: I copped out and wouldn't write: 'Maharishi, what have you done, you've made a fool of everyone.'70
That was written just as we were leaving, waiting for our bags to be packed in the taxi that never seemed to come. We thought: 'They're deliberately keeping the taxi back so as we can't escape from this madman's camp.' And we had the mad Creek with us who was paranoid as hell. He kept saying, 'It's black magic, black magic. They're gonna keep you here forever.' I must have got away because I'm here.71

GEORGE MARTIN: I don't go in for those kinds of things too much myself. Whether it's Maharishi, or dianetics, or whatever — I think it's a load of codswallop. But whatever you believe in is probably a good idea for you. And they did seem to believe in the Maharishi, and it seemed to work all rigt for them. Today, George still dejends the Maharishi, even though the others were later disillusioned with his behaviour.